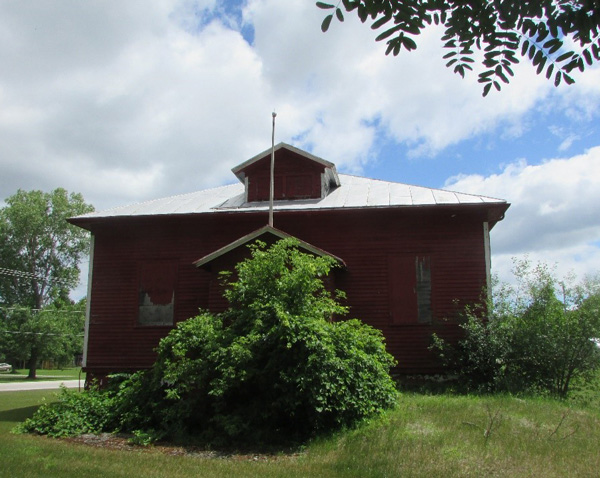 HSHS Library Holdings

The materials listed below are held at our office and museum at 605 Maywood Avenue and are available for use by the public in the building. In addition to the items listed below the History Committee is developing a history file of newspaper articles and documents pertaining to Howard and Suamico. These are available for research use also.
View a list of all Books of Local interest which are available at the Brown County Library or a link to the list of St. John the Baptist Church marriage records from 1863 to 1874.
19TH Century Immigrants (Curran, LePounsey, Daul, Theis, Kuypers, Van Haren, Van Lieshout)
Alan Dow Wilson genealogy
Ancestral Roots of certain American Colonists who came to America before 1700
Ancestry of William and John Johnson
Andrew Weber lighthouse and family information
Ann Brudnick's scrapbook
Atlas of World History
Bay Area Obituaries with Index
Bay Port High School annuals including the years 1959-1970, 1976, 1978-79, 1989-1993, x 1995-1996, 1998-2001, 2003-2009
Belgian American Research Materials at UW-Green Bay Special Collections
Belgian genealogy information (file folder)
Birthplace of a Commonwealth: a short history of Brown County, Wisconsin
Boston Marriages from 1700 to 1809
Brown County cemetery index books published by the Bay Area Genealogical Society (16)
Brown County Directory, 1962
Brown County Naturalization index (pamphlet)
Charles William & Sarah Gibson Athey family of Howard, Brown County, Wisconsin
Clays and clay industries of Wisconsin by Ernest Robertson Buckley
Deceased Soldiers brought from Overseas to Green Bay WWII (pamphlet)
Descendants of William and John Johnson: Colonial Friends of Virginia
The Diocese of Green Bay: A Centennial – 1868-1968
Directory of the Ancestral Heads of New England Families 1620-1700
Dominick Brunette (1780-1862) Early Green Bay Family from Canada to Duck Creek, Wisconsin
Double Wedding Ring by Patricia Wendorf (3 copies)
Dutch Webbers of Indiana and Illinois
Early Duck Creek History by Jeanne and Les Rentmeester
Exhibiting your Community's Heritage by the State Historical Society of Wisconsin
Family tree of Felix Roskom and Clara Luedke
Family of Ruby Lillian Moritz and Winfred Henry Joachim
Farewell to the homeland: European immigration to N.E. Wisconsin 1840-1900
Flemish in Wisconsin by Jeanne and Les Rentmeester
French Dictionary
From Grez-Doiceau to Wisconsin
Fuller Morrison Hayes Genealogy
Genealogical Register of the First Settlers of New England
Genealogy and memories of J. Kenneth & Ceil C. (Reimer) Lutsey families
German Dictionary
Glimpse into their past (Anderson-Lu Maye) (Howard Suamico)
Gold Star List form Brown County – WWI (pamphlet)
Great migration: Immigrants to New England 1634-1635. Vol. 1 A-B
Green Bay City Directory – 1988, 1992, 1994, 1998, 1999
Green Bay City Telephone book 1931
Hammatt Papers: Early inhabitants of Ipswitch, Massachusetts, 1633-1700
Handy book for genealogists. 6thedition
Henry S. Baird and his wife Elizabeth T. Fisher: Early Green Bay Family
Herman Marks family story
Hussin family genealogy
Incidents in the history of Brown County, Wisconsin
In His Vineyard – 1868-1983
Jacques Porlier (1765-1839) of French Nobility From Canada to LaBaye
Joannes: Early Green Bay Family
Judge John Lawe
La Rivere au Canard-Duck Creek in Early Days – as told by Mrs. Mary Londeau Cormier
Land Atlas and Plat Book for Brown County, Wisconsin 1983
Lea: Our Wisconsin Girl by Kristin W. Diver (2 copies)
LeMere family, relatives and friends. Volume 1
Memories of Old Duck Creek – Rentmeester, Jeanne & Les
Military scrapbook by Jeri (Koskoski) Van Lanen
Minahan: Early Green Bay Family
Morgan Lewis Martin: Early Green Bay Family
Mouet deMoras DeLanglade "dit" Langlade "The Father of Wisconsin" (2 copies)
My local history book! by the School District of Three Lakes
Obituaries, some with indexes (1930's, 1940's and misc dates)
Obituaries with index (1940-1948)
Obituaries (4 volumes)
Original lists of Persons of Quality 1600-1700
Our Marchant relatives by Jeanne and Les Rentmeester (2 copies)
Pamperin family Treasures (Cookbook with photos and stories)
Pierre "Jacques" Grignon : Early Green Bay Family from France and Canada
Pioneers of Maine and New Hampshire
Plat Book of Brown County, Wisconsin 1889
Putting Pulaski on the map (3 copies)
Puritan Village: The formation of a New England Town
Research guide to Winnebago Co. Wisconsin by the Winnebago Genealogical Society
Scrap book made by Josie Pawlak
St. John the Baptist Catholic Parish (3 copies)
Steeno family
Story of Pittsield and Suamico by Lizzie Rice Johnstone (2 copies)
Suamico, the Fishing Village by Dan Williquette
Tidbits by Jerry Henry
Tomah by Jeanne and Les Rentmeester
Town of Humboldt Sesquicentennial book
Uncovering your ancestry through family photographs
Vital records of Natick, Massachusetts, to the year 1850
Wedding Photo Album (1 Volume)
Wisconsin Creoles by Les and Jeanne Rentmeester
Wisconsin fur-trade people by Les and Jeanne Rentmeester (2 copies)
Wisconsin Council for Local History 2003-2004 Roster [of] Historical Societies and Museums affiliated with the Wisconsin Historical Society
Wisconsin Historical Society and Wisconsin Council [for] Local History. 2006-2008 Roster of affiliated Historical Societies and Museums.