St. John the Baptist Marriages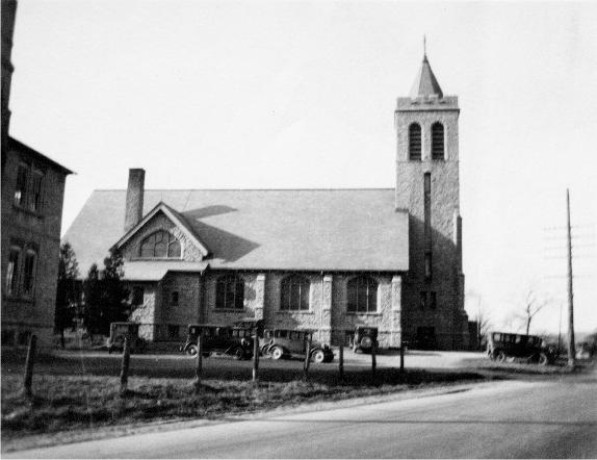 St. John the Baptist Catholic Church
Howard (Duck Creek), Brown County, Wisconsin
Marriages: 1864 – 1874

The first St. John the Baptist Catholic Church in Duck Creek was built in 1849. It was first attended by the priests serving at St. John the Evangelist in Green Bay. About 1853, the parish received its first resident pastor, Father Turcotte. At that time, up until the founding of St. Peter's Church in Oconto, the priest from Duck Creek served an area that included all the area north to the state line of Michigan, as well as Menominee, Michigan. Unfortunately the records for St. John the Baptist from their start until mid-1881 went missing before 1895. Why they went missing is unknown.
This is a huge loss for all of the genealogically minded descendents of the settlers of that area. These included many French-Canadians, Metis, and Belgian pioneers.
The Marriages
In December of 1874, some of the marriages from St. Johns were registered with the Brown County Register of Deeds. The particular group of records which follow, date from January 1864 to 1874. Certainly more marriages than those listed below were performed at St. John's between 1849 and 1881, but these are all that were recorded in this one particular, continuous run. It is also quite possible (likely even) that there are more runs of births (taken from the baptismal register) and deaths (taken from the funeral register) to be found in the many volumes of original vital record certificates housed at the University of Wisconsin Green Bay Area Research Center.
It should be remembered that the spellings of the names were as they were written in the sacramental register and copied from that source years later.
The below marriages were performed at St. John's Catholic Church between 1864 and 1874 and recorded in the civil marriage records of the Brown County Register of Deeds. They are now stored at the University of Wisconsin Green Bay Archives & Area Research Center.
| Volume | Page | Date | Groom Surname | Bride Surname |
| --- | --- | --- | --- | --- |
| 7 | 99 | 1863 12 13 | Keefe | Bellen |
| 7 | 113 | 1864 01 22 | Baron | Wacker |
| 7 | 112 | 1864 01 24 | Cormier | Langdo |
| 7 | 118 | 1864 04 24 | Callewaers | Tilly |
| 7 | 113 | 1864 04 24 | Morris | Lariviere |
| 7 | 119 | 1864 10 15 | Scallen | Gurry |
| 7 | 116 | 1865 06 20 | Fournier | Laprairie |
| 7 | 117 | 1865 08 01 | Lawrence | Macmann |
| 7 | 118 | 1865 12 26 | Capentikes | Langlois |
| 7 | 117 | 1865 12 31 | Kenewona | Kenesa |
| 7 | 116 | 1866 09 06 | Prince | Badeau |
| 7 | 115 | 1866 09 09 | Lecombe | Fontainie |
| 7 | 115 | 1866 09 11 | Belleau | Hussin |
| 7 | 114 | 1866 10 15 | Lariviere | Lamirande |
| 7 | 113 | 1866 10 28 | Dumas | Rabida |
| 7 | 126 | 1866 11 24 | Gauthier | Frenan |
| 7 | 119 | 1866 12 16 | Deterville | Hussin |
| 7 | 120 | 1867 01 07 | Louis | Josmo |
| 7 | 120 | 1867 04 20 | Brunet | Walker |
| 7 | 121 | 1867 04 25 | Lemire | Fauk |
| 7 | 121 | 1867 05 12 | Donlevey | Walcker |
| 7 | 122 | 1867 06 02 | Lepage | Brunet |
| 7 | 122 | 1867 07 27 | Bibeau | Frenan |
| 7 | 123 | 1867 08 06 | Bonneville | Bouchard |
| 7 | 123 | 1867 08 15 | O'Neil | Doran |
| 7 | 124 | 1867 08 18 | Fournier | Champeau |
| 7 | 124 | 1867 09 17 | Skilling | Morris |
| 7 | 125 | 1867 10 16 | Grenier | Bouchard |
| 7 | 126 | 1867 11 03 | Lawrence | Morois |
| 7 | 125 | 1867 11 09 | StAnge | Lamirande |
| 7 | 102 | 1869 02 08 | Mussin | Lemyre |
| 7 | 104 | 1869 03 08 | Brunette | Lemeye |
| 7 | 102 | 1869 03 08 | Mussin | Lemyre |
| 7 | 103 | 1869 04 12 | Filley | April |
| 7 | 103 | 1869 04 12 | Filly | April |
| 7 | 104 | 1869 05 07 | Fredenbourg | Menaret |
| 7 | 105 | 1869 08 18 | Cumps | DeDecker |
| 7 | 105 | 1869 09 29 | Duchateau | Heursin |
| 7 | 106 | 1869 10 08 | Dancaster | Mahes |
| 7 | 101 | 1870 02 27 | Chartraz | Montfert |
| 7 | 100 | 1870 02 27 | Veanepoi | Chaunard |
| 7 | 101 | 1870 05 06 | Lebelle | Patro |
| 7 | 102 | 1870 10 01 | Barlement | Becker |
| 7 | 103 | 1870 10 05 | VanHurk | Lemons |
| 7 | 90 | 1870 10 15 | Grignon | Hamilton |
| 7 | 89 | 1870 10 27 | Skilling | Borden |
| 7 | 90 | 1870 11 06 | Crikclair | Van Ixe |
| 7 | 112 | 1870 11 22 | Waard | Splan |
| 7 | 111 | 1871 12 02 | Brooks | Labelle |
| 7 | 110 | 1871 12 11 | St Clair | Hussin |
| 7 | 130 | 1872 00 00 | Lagrois | Caffry |
| 7 | 97 | 1872 00 00 | Leconte | Fontaine |
| 7 | 98 | 1872 00 00 | Vradenburg | Wauprouse |
| 7 | 110 | 1872 04 04 | Fletcher | Murphy |
| 7 | 89 | 1872 05 13 | Lonneard | Marteau |
| 7 | 131 | 1872 07 08 | VanFrachen | Tilly |
| 7 | 98 | 1872 08 05 | Karsh | Blaser |
| 7 | 109 | 1872 10 00 | Cathearsel | Duchateau |
| 7 | 109 | 1872 10 30 | Donahoe | Finaghan |
| 7 | 91 | 1872 11 03 | Tobin | O'Connor |
| 7 | 108 | 1872 11 08 | Louis | Cormeau |
| 7 | 131 | 1872 12 22 | Lymes | Lawler |
| 7 | 130 | 1873 00 00 | Gagnon | Paien |
| 7 | 93 | 1873 02 00 | Goodwin | Brown |
| 7 | 95 | 1873 02 19 | Clark | Nollen |
| 7 | 95 | 1873 02 25 | Skilling | Brunette |
| 7 | 97 | 1873 04 09 | Cook | Poitras |
| 7 | 96 | 1873 04 09 | Trudeau | Poitras |
| 7 | 106 | 1873 04 21 | Plouff | Plooff |
| 7 | 93 | 1873 05 00 | Cumps | Beaupre |
| 7 | 127 | 1873 06 01 | Delorme | Lando |
| 7 | 92 | 1873 06 14 | Crepeau | Fontaine |
| 7 | 92 | 1873 06 14 | Gris | Fellon |
| 7 | 96 | 1873 07 09 | Charteux | Poirer |
| 7 | 107 | 1873 07 27 | Schamon | Fegerson |
| 7 | 107 | 1873 08 03 | Wolette | Chapron |
| 7 | 99 | 1873 09 02 | Danks | Wauters |
| 7 | 128 | 1873 09 03 | Wescot | Demes |
| 7 | 127 | 1873 10 12 | Dumas | Rabido |
| 7 | 108 | 1873 10 13 | Gauthier | Ledger |
| 7 | 129 | 1873 11 00 | Patenotes | Hull |
| 7 | 100 | 1873 11 17 | Colhus | Doran |
| 7 | 129 | 1873 11 24 | Labelle | Morin |
| 7 | 128 | 1873 12 07 | Baso | Carbano |
| 7 | 91 | 1873 12 31 | Fournier | Brunette |
| 7 | 94 | 1874 00 00 | Gervais | Dian |
| 7 | 94 | 1874 00 00 | Lemay | Ploudt |
| 7 | 120 | 1874 04 20 | Brunet | Walcker |