Events – Fundraising – Wish List
Our Wish List
We wish that everyone loved history like we do,
so new members are always on our wish list!
Recurring events are our memories shows, booyah sales and annual used book sale.
And we can always use more photos for our Military Wall titled "Honor and Remember"!
The Green Bay Packers Give Back
A $500.00 Grant
Tim Rasmussen, President of the Howard-Suamico Historical Society volunteered over 200 hours while working on the house and barn at Ancestry Acres during the first six months of 2019. By doing so, the Green Bay Packers Give Back awarded the Howard Suamico Historical Society a grant for $500.00 in a way of supporting Tim and the time he gave to the Historical Society.
Thank you to the Green Bay Packers and all the hard work given by all the volunteers in working on the house and barn at Ancestry Acres.
Used Book Sale
We are collecting books for our annual used book sale. If you have any books, cd's, dvd's, bluray's, puzzel's or games to donate, they can be dropped off at the Village of Suamico offices, Kimps Ace Hardware or Thornberry Cottage. If you have a large amount of books, please call Tim Rasmussen 920-434-3514 and arrangements will be made to pick them up.
What's Going On?
News/Events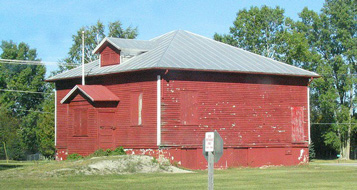 HSHS Looking for Tremble Photos HSHS is looking for pictures of Tremble School and the students that attended. Contact Tim ...
Read More
Monthly Minutes
Howard-Suamico Historical Society
February 11, 2021
HSHS Office & Museum, 605 Maywood Avenue
Call to order: The February Meeting of HSHS was called to order by President, Tim Rasmussen at 6:00 pm
Roll Call: Present: Tim Rasmussen, Barb Styczynski, Ellery Gulbrand, Tom Mooren, Brian
Gillaume, Henry VandenHeuvel, Jan Deneys, Geri Corbeille, Steve Pamperin
Minutes: The minutes from the January meeting were approved with a motion by Geri Corbeille and
a second by Jan Deneys. Motion carried.
Treasurer Report: Treasurer, Steve Pamperin, reported HSHS current assets. Ellery Gulbrand made a motion to approve the Treasurer's Report and to pay outstanding bills. Motion seconded by Henry
VandenHeuvel. Motion carried.
New Business:
Tim Rasmussen reported he and Brian Gillaume have been working with Packerland Websites in designing a new HSHS Website. They reported the website is looking very nice and will be easier to work with. This is being done per a motion passed at HSHS January meeting.
Treasurer Steve Pamperin reported he is in process of applying for a HSHS Credit Card.
The Banquet Committee consisting of Barb Styczynski, Geri Corbeille and Jan Deneys reported no action has been taken at this time due to COVID 19 concerns.
Tim Rasmussen reported Brown County Historical Society is requesting the use of Ancestry Acres for the Annual Road Rally. The theme for 2021 is "Roads, Rivers, Rails, and Trails".
Old Business:
Tim Rasmussen reported there is interest in having an HSHS Founders Day. A committee was formed to investigate this consisting of Tom Mooren, Jan Deneys, and Geri Corbeille.
Tim Rasmussen reported he is moving the Vickery photos to the Past Perfect Program for easier access. Thanks to Barb Styczynski for bringing a copy of photos to Pat Vickery Henry and Peggy Vickery Doctor for identification.
Tim Rasmussen reported the annual state report is complete.
Tim Rasmussen reported we continue to need articles for HSHS Newsletter. We would like to feature Tremble School and the need for the project. Deadline for next newsletter is April 10, 2021.
Brian Gillaume and Henry VandenHeuvel did a winter check on the antique fire truck. It was discovered to have a bad fuel pump. The maintenance repair was done by Jerry Farrel. Tom Mooren made a motion to present Jerry Farrel with a $50 gift certificate in appreciation. Motion was seconded by Barb Styczynski and amended to $75 with the approval of Tom Mooren. Motion passed.
Tim Rasmussen reported HSHS needs to raise $100,000 for the Tremble School Project. HSHS presently has a pledge of $10,000 with a possibility of making that $20,000. We do have $7,302 in the fund.
Barb Styczynski reported book sales are good with a number of books being sent out of state.
Tim Rasmussen reported HSHS has 30 Opoly games left for sale.
Barb Styczynski stated she is looking for ideas for 2021 programs. Nothing is planned at this time due to the uncertainty of COVID 19.
Brian Gillaume reported the Suamico Spring Rummage Sale will be held on April 30, 2021 and May 1,2021. HSHS will take part with a book sale at Ancestry Acres.
Brian Gillaume made a motion to adjourn and a second by Ellery Gulbrand. Motion carried.
Meeting adjourned at 6:56 pm.
Respectfully submitted,
Ellery Gulbrand, Secretary
Dates to Remember:
March 4, 2021 (Board Meeting), April 1, 2021 (General Meeting)
May 6, 2021 (Board Meeting), June 5, 2021 (Annual Meeting and Election)
Thank You to our volunteers: Together we make a difference!